Consulting
We work with you to identify your challenges and streamline your business process. We strive to align your software with your work flow, bringing critical information to the surface. Together we can reduce steps to input and retrieve the information you need to bring your team together and get the job done. We partner with you to create solutions that keep your organization agile and able to do your best work.
FileMaker
The FileMaker platform is often a perfect fit for your information puzzle. An affordable, feature rich, rapid development environment that allows you to create cross-platform applications for the desktop (Macs/PCs), the web and iOS devices. Keep your data on your network or a private cloud. Share it with the world by way of the web. Automate repetitive tasks. Integrate with other software APIs. A FileMaker solution can play a role as light weight as a spreadsheet/paper replacement or be the core business application used to steer the ship. It is a widely adopted tool by Mom and Pop operations to major corporations across the globe. Solutions created with FileMaker are supported by an exceptionally passionate and diverse development community. FileMaker Inc. is a subsidiary of Apple and has been growing and improving this platform with out fail for 20 + years, so you can count on it being around for a long time to come.
Learn More
User Interface Design
We love to create beautiful software that is thoughtfully designed for people who use it. The success of a piece of software is how well it fits in the hand and mind of it's users. Good design makes all the difference in the success and longevity of a project. We craft our solutions from the outside in and the inside out. Making software is a process that not only results in a tool that increases productivity and quality it also allows you gain perspective on the big picture to the finest detail. It is a learning process that improves the entire organization. If your solution needs a make-over or you need help with user interface design on a new project, we look forward to hearing from you!
Clients
Bivouac Touring
Bizarro Booking
North Shore Mobile Werks
Proletariat Touring
Red Ryder Agency
About
Hello World! My name is Chiyoko Yoshida. I have been a FileMaker developer for a long time and chiyofm is my company. I love creating solutions and I do this for work and for fun. I am an enthusiastic member of the FileMaker community. I am proudly FileMaker Certified (11, 12). I enjoy a life long study of FileMaker by attending events ( FileMaker DevCon , Pause On Error, FileMaker Product Developer Conference, Experience & Style: The Design Conference for FileMaker Developers ). I am passionate about keeping up with the latest and greatest techniques, methods, best practices. I have had the privilege to present a session at the 2013 Pause On Error (a FileMaker un-conference) in Portland. I was honored to have a technical article published by FileMaker Community (formerly Technet) for a reporting technique I use a lot 'How To: Sub-Summary Reports with Dynamic Detail Data'. Check it out and become a member of the FileMaker Community you can read the article and download the demo file.
I founded chiyofm in 1997, when I picked up my first FileMaker consulting project in addition to being an in-house FileMaker developer. chiyofm brings together the full range of creativity and experience from 20 + years working and developing inside and out side of organizations from manufacturing and design shops to the music industry. We have worked within and along side FileMaker Platinum Business development firms. Here we take the best of everything we have learned and bring it to each project.
We specialize in UI/UX Design and have a lot of experience with SeedCode Complete (a FileMaker Framework). We build solutions for the desktop (Mac/PCs) and iOS devices and the web. chiyofm is based out of Chicago, IL. We enjoy working and collaborating with people across the country from Washington to Boston and even Alaska.
Outside of Filemakering I enjoy writing and recording music, design, making art and hanging out with my boyfriend & cats.
Read an interview
Check out what I'm reading here...
Demos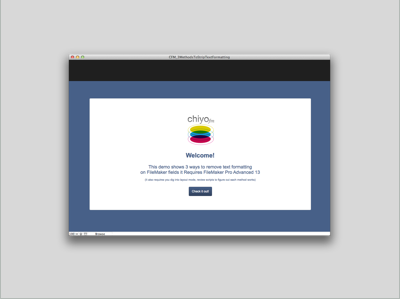 3 Methods To Remove Text Formatting From FileMaker Fields
This FileMaker 13 demo file shows 3 methods to remove text formatting from fields. People often request you change FileMaker native behavior to strip formatting if a user pasts text into a field so the font size, style and color remains consistent. Here you will find several different ways to acheive this. They all have their own pros and cons.
Download Demo File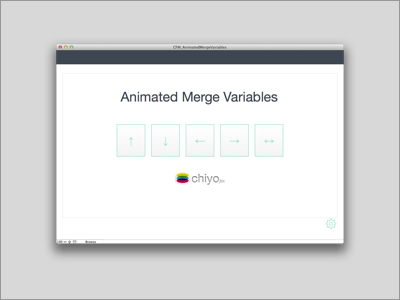 Animated Merge Variables
This FileMaker 13 demo was an experiment with creating some animated UI effects using FileMaker merge variables. Its just fun to click thru. It's not tested on windows yet. I may do a blog post in the future to explain more detail about what is going on under the hood at some point. This was inspired by Jeroen Aarts demo file Randominator.
Download Demo File
FileMaker Themes | Design Palette
I needed a simple way to visualize the new FileMaker 13 themes and learn more about them. So I created a demo file as a design palette. This demo file explores each theme and visually shows the details of each layout object. You can see and experience how layout objects render for each state in a WYSIWIG like fashion. With this tool you can gain perspective on the consistency of your design as a whole.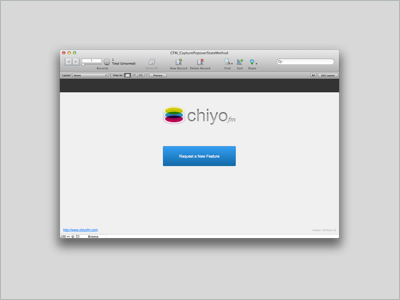 Capture Popover State
This FileMaker 13 demo file is a "New Feature" request idea created as an experiment to discover how to capture when a popover is active. It was very exciting and a great honor to see this file included in John Sindelar's session "Year in Review" at FileMaker DevCon 2014.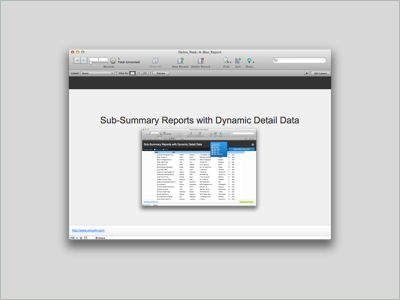 Sub-Summary Report w/ Dynamic Data
This demo illustrates a powerful reporting technique that allows a developer to show both summary and detail data dynamically from a single layout. This technique. This will save time in not having to support multiple layouts.